Jana Hejdová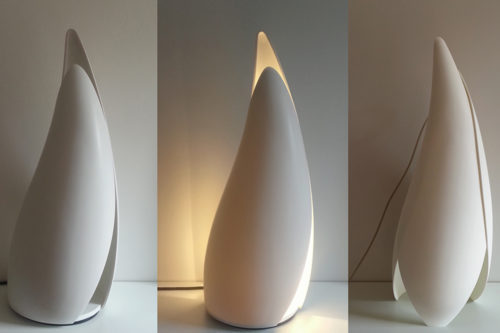 Jana Hejdova "TO BLOOM"

C O R I
C O R I lights series was developed in cooperation with the renowned Czech producer of CORIAN. For our collection of lights, we used white translucent CORIAN 4 and 6 mm thick. The solid material is always cut from panels and then pressure-pressed onto a prefabricated wooden mould. Lamps are over 70cm high, entirely made from CORIAN, wholly manufactured in one shop in the Czech Republic including the base to which a collar with a retro LED bulb is attached. Light fixture achieves three light effects – partial translucence through the material, internal reflection, and half permeability due to overlapping.

G Y P S I B L U O O M
The collection of hanging and table lights from a colored gypsum paste pushed in moulds using the old STUCCO LUSTRO craft technique. This year's collection GYPSI BLOOM is a continuation of last year's collection GYPSI BLUES inspired by blueprint. Smaller lamps (and bowls) are 35 cm in diameter and approximately 10 cm deep. Bigger lamps are around 53 mm in diameter and 13 cm deep.
www.janahejdova.cz
room number:
109
ALL EXHIBITORS