origasmus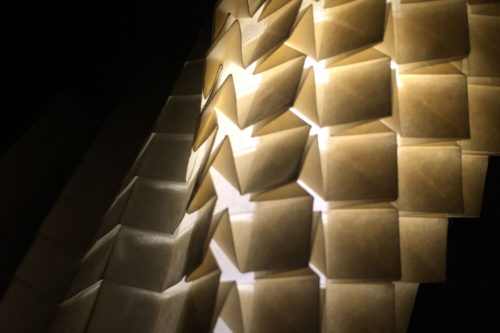 I am an experimental paper artist, live and work in Weimar, Germany. Once studied there at Bauhaus. Over the last years I developed a passion for paper and paper alike materials. I collect and work with them carefully since paper is a valuable resource we should treat with respect. I use different origami techniques to create different types of artworks either made out of a single sheet of paper or small series of design objects like lamps or jewelry. And I enjoy the process of folding, twisting and repeating the same step again and again, each time with the same precision.

Program:
Every day from 1 to 5 pm
"Live folding of a three-dimensional origami tessellation"
Visitors can see how an artwork is created, ask questions and watch the progress of the paper transformation.

Saturday 3pm
Performance "Folding Fractals"
A ritual of folding a bigger sized paper into a single tile of a Hydrangea Tessellation. The steps to form the petals are repeated in levels each following being smaller than the previous one, theoretically infinitesimal. The process will be in companionship with Anna-Maria Weiß a german artist specialized in rituals and etching.
instagram.com/origasmus
room number:
214
ALL EXHIBITORS